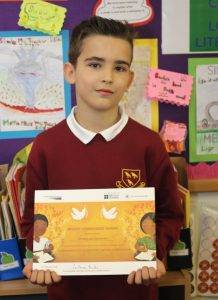 Celebrations are underway in Angus as St Thomas Catholic Primary School Arbroath Pupil, Stanislaw Rakowski, received a Highly Commended award in the British Council Commonwealth Short Story competition.
More than 3,000 stories from a host of Commonwealth countries around the world took part in this year's competition on the theme of Peace. The judging panel selected the top three stories across each age category (7-10 and 11-14 years olds) and awarded Highly Commended to a further four entries.
Stanislaw's story 'The Mysterious Bully Formula' was described by the British Council as a charming tale about a sibling's struggle against their brother and school bullies, the author playfully subverts our narrative expectations while tackling the theme of peace with a sense of fun.
Stainislaw told Dunkeld News, "I felt really happy to win and did not think I would be in one of the top places out of 3000 children across the world."
"That's really amazing and I am very proud of myself. The idea for my story just popped into my head when my class were discussing imaginative writing criteria."